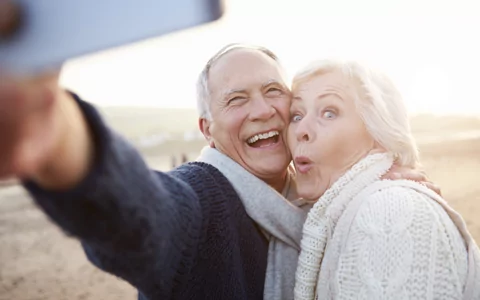 A damaged or worn out smile can affect many aspects of your life, including your confidence, comfort, and health. If you have several teeth that are missing or are so damaged that they need to be removed, you can trust our team at Deborah McNeil-Amorteguy, DDS, to give you high-quality dentures that fit your lifestyle and get you back to feeling your best!
An Overview of Dentures
Dentures are a great option for people who no longer have all of their original teeth. We offer custom-made dentures that will appear natural, whether you still have some of your original teeth and only need partial dentures, or are missing all of your teeth and need a full set.
We also offer implant-supported dentures, which can click into implants that are surgically attached to your jaw. Dr. Amorteguy will help you determine which type would best fit your lifestyle and individual needs.
Types of Dentures Offered by Dr. Amorteguy
Our office prides itself on providing personalized treatment to each and every patient. This means you have a wide variety of dentures to choose from, ensuring that you get the most comfortable dental appliances that fit your lifestyle.
The following sections are brief overviews of which dentures we offer and the benefits they provide. Feel encouraged to contact our office should you have any questions about a particular denture type, or to schedule a consultation.
Traditional Dentures
These are the tried and true dental appliances that most are familiar with. Set in the mouth, they act as prosthetic teeth to assist in chewing, speaking, and supporting jaw strength. We offer both full dentures and partials, meaning we can create a set of traditional dentures for you whether you are missing the majority of your teeth or just a few.
Traditional-style dentures are:
Economical: Due to their straightforward design, these are low-cost dentures for the price-conscious patient.
Quickly Designed: Traditional dentures have a streamlined design and manufactured process, allowing them to get to the patients who need them fast.
Functional: Whether it is providing a smile or assisting in chewing, traditional dentures will return what was lost when your teeth went missing.
Custom Dentures
If you are looking for a more realistic look for your dentures, you may want to consider getting a custom set. At our office, our talented team of dental professionals can provide just that! Beautifully designed, comfortable, and high-quality, custom dentures (both full dentures and partials) have incredible benefits.
Natural Design: Custom dentures are crafted to present a more natural look. They put an increased emphasis on your smile's aesthetic over their traditional counterparts. Custom dentures are completely yours!
A More Natural Fit: Where traditional dentures have been streamlined for faster availability, custom dentures are carefully created for your unique smile. This provides a more natural and comfortable feeling when wearing them as well.
Increased Longevity: While it is recommended by the American Dental Association to replace your dentures every five years, these customized dentures can last over seven years if properly cared for!
Schedule Your Denture Consultation Today
Learn more about our services and how we can help improve your smile with dentures. Call Deborah McNeil-Amorteguy, DDS, today!