Deborah McNeil-Amorteguy DDS
We are a cosmetic and general dentistry practice located in San Luis Obispo and we love to serve our community. We work hard for our patients and love to help those who also work hard. For those who like the flexibility of paying for their dental work in cash, we're here for you.
With professional expertise in dental crowns, dental veneers, tooth whitening, and orthodontics, Deborah McNeil-Amorteguy, DDS, is passionate about providing caring service to all of our patients, as well as promoting excellent oral health.
At our practice, we value every patient we have and we work to ensure the doctor/patient team is the right one for you and our practice. We genuinely love each patient and are more committed to them than a practice that takes every patient regardless of whether they will be happy with their dental team.
If you're looking for a trusted San Luis Obispo dentist, come see our team at Deborah McNeil-Amorteguy, DDS! Call today to make an appointment or to ask more about the many services we offer.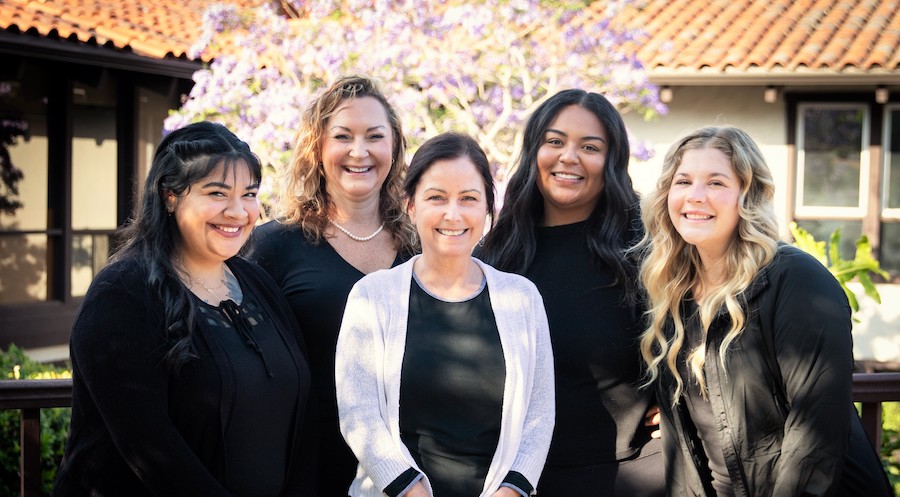 What Our
Patients Say
Carol's Story
One of the things I love about [Dr. Amorteguy] is that she is always investigating the outer fringe of knowledge in dentistry but she works with us conservatively so that means that the conservative line is always moving forward because she always knows what is new and what is happening so she advances with that.
Dr. Amorteguy and her staff are kind, efficient and very attentive to my needs.

I have had extensive dental work done by doctor and I can say with confidence she's the best dentist in San Luis Obispo and beyond!! All the things that matter to a patient are taken care of, everything is talked through and where there are options, they are laid out clearly for the patient to choose.

Dr. Amorteguy has truly been a lifesaver for me!
---
I would recommend Dr. Amorteguy to my family and friends because everyone in the office is concerned and invested in my dental health. Also, I appreciate an aggressive preventative approach.
---
Everyone was so friendly and helpful, and Dr. Amorteguy was awesome. She broke everything down in a way I could understand and was conservative with treatment. This was the best experience I've ever had at the dentist. I highly recommend Dr. Amorteguy and her awesome technicians and staff!
---
Dr. Amorteguy is top of the line and Karin the Hygienist will be a great replacement when Cathy retires. Dr. Amorteguy is the best dentist I have had in my lifetime!
---
As always, this office is extremely professional and competent, even in a pandemic. Love that it's operated by an amazing female staff and my teeth are always treated with the uttermost care.

I'm very picky about who I let touch my teeth and I've lived all over - NYC, Paris, London, etc. - and this office is top notch.
---
Professional and very caring. Outstanding patient Interaction!
---
Dr. Amorteguy is the apex of fine dentistry. I will and often do recommend her to family and friends.
---
Orthodontics
We use Tréz bio-compatible aligners and the Six Month Smiles system to help our patients get a straighter smile through. Both options use subtle methods to effectively straighten teeth without drawing much attention to the process. Dr. Amorteguy can help you determine which system will yield optimal results for you. To learn more about our incredible orthodontics treatments and how they can provide a straighter smile quickly and discreetly, click here.
Why Our Patients Love Us
We are thrilled by the love and loyalty our patients have shown us. We know, like they know, that our work is good. Here's a bit about what makes our practice so special:
We emphasize comfortable treatments and sedation dentistry for any who need it.
Our staff can provide blankets, neck pillows, Tempur-Pedic pads, and headphones.
Every member of our team is hand-picked for their compassion and empathy.
All our patients are different, so we are very flexible to meet the needs of each individual.
At Deborah McNeil-Amorteguy, DDS, we use only the most advanced technology.
We work with Smiles for Life and the 40 Prado Homeless Services Center.
Call Our Office Today
If you're interested in cosmetic dentistry, restorative dentistry, or general dentistry, and you're looking for a San Luis Obispo dentist look no further!
Contact our office
to schedule a consultation and get the smile you've always wanted.