Dental Veneers in San Luis Obispo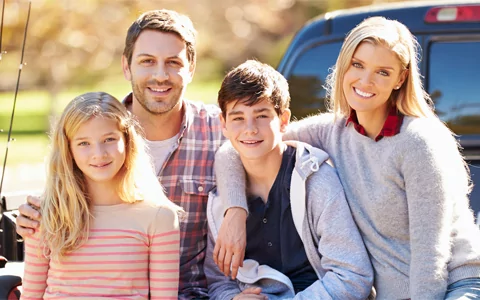 Are you unhappy with your teeth? Are you embarrassed to smile or laugh? Here at Deborah McNeil-Amorteguy, DDS, we can help improve your smile—and you might be surprised how much that can improve your mood as well. With porcelain veneers, our team can help you achieve a smile you can feel confident about sharing with everyone!
What Are Tooth Veneers?
Tooth veneers are made of a wafer-thin piece of porcelain. They are thin enough to maintain the natural appearance of teeth but are also durable.
Dental veneers are bonded to the outer surface of the original tooth, covering dental imperfections or damage. They can be created to match the shape and color of your natural teeth so that they won't appear artificial or out-of-place in any way.
Signs You May Need Veneers
Porcelain veneers may be beneficial for you if you have any of these dental issues:
Oddly shaped teeth
Teeth with severe discoloration
Chipped, worn, or broken teeth
Spaces and gaps between teeth
Weakened teeth
Other damage
Discover Which Veneer Suits Your Lifestyle
Thanks to the dedication of our compassionate dental team, every patient is treated according to a comprehensive plan that meets their individual oral care needs. This means your input is valued as we discover which veneer will bring out your ideal smile.
Types of Dental Veneers
At Deborah McNeil-Amorteguy, DDS, we offer two types of tooth veneers: traditional and prepless. Both provide improvements to aesthetics and protection to your natural smile, but a few key differences in procedures so you can decide which suits your lifestyle best.
Traditional Veneers | These are attractive, permanent solutions to preserve a healthy smile. To ensure the highest quality and your complete satisfaction, traditional porcelain veneers often require two visits after the initial consultation.
Prepless Veneers | Equally attractive as their counterparts, prepless tooth veneers do not require the same level of tooth preparation, so they can be placed much quicker. They are still an incredible dental procedure as they last up to seven years and are reversible!
The Dental Veneer Process in San Luis Obispo
Aside from providing a stunning and natural aesthetic, the majority of patients appreciate the straightforward process of receiving veneers. This will often be a three-step process:
Consultation: To determine if veneers are the right solution for your teeth, you'll meet with our trained professionals to discuss such factors as health, dental history, and cost. Together, you'll decide whether to move forward with veneers.
If your teeth are discolored, Dr. McNeil-Amorteguy may suggest that you undergo teeth whitening prior to the procedure. Dental veneers cannot change color so this ensures your new dental veneers are the same optimal shade of white as the rest of your teeth.
Examination: This step involves x-rays and taking impressions of your teeth. This comprehensive process assists in providing you with completely unique and beautiful veneers that you will be proud to show off when you smile!
Bonding: Local anesthetic is applied to keep you comfortable while your tooth enamel is trimmed to the ideal thickness for the veneers to attach to your teeth. Once your veneers are attached and bonded, they will look and function like your natural teeth.
A More Perfect Smile With Veneers
Choosing porcelain veneers is one of the most effective ways to improve your smile. Here are some of the benefits of dental veneers:
They can whiten resistant teeth | Teeth whitening trays don't work the same for everyone. If you've had bad luck whitening your smile, veneers may be the answer to getting the shade you want.
They are stain-resistant | You may want to break your coffee or soda habit for other reasons, but you won't have to worry about your favorite food or drinks discoloring your veneers.
They have a natural appearance | We can create dental veneers that look right at home with your other teeth. We custom make veneers for all of our patients, so they will match the color and size of your natural teeth.
They don't require an invasive procedure | A very small amount of enamel will have to be removed in order to bond the traditional veneers to your natural teeth, but this treatment is relatively noninvasive. Additionally, prepless veneers are completely noninvasive as they don't require any enamel removal at all.
Our office has incredible experience with veneers, making us a great choice for your cosmetic dentistry services! Dr. Amorteguy and our associates focus on restorative and cosmetic procedures like veneers and are proud to work with organizations like Smiles for Life.
Gum Contouring
With access to the latest in dental technology, our office can improve the aesthetics of your smile even further when placing your veneers with gum contouring. Using a dental laser, we can gently alter the shape of the gums and teeth to perfectly match your new veneers. Thus, giving your new teeth an attractive curve and length that will make your smile shine.
Schedule a Dental Veneer Consultation in San Luis Obispo!
To learn more about our dental veneers, as well as our other quality services, contact Deborah McNeil-Amorteguy, DDS, today. We are happy to answer any questions you may have and to help you in any way needed.
Related Dental Services